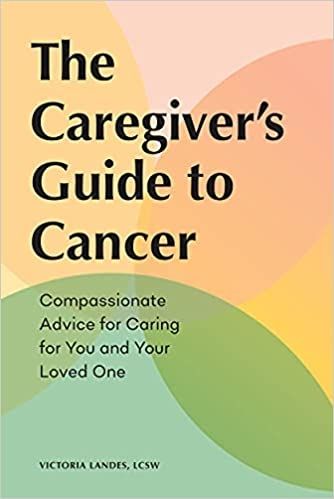 The Caregiver's Guide to Cancer: Compassionate Advice for Caring for You and Your Loved One is an excellent, concise resource for those of us with a loved one who has been diagnosed with cancer. The author, Victoria Landes, LCSW, was a patient navigator and care coordinator for people with breast cancer in Marin County, California for 12 years (and a friend of Zero Breast Cancer!). She writes in plain language about cancer, the healthcare system, and specific ways of supporting someone with cancer during and after treatment, with guidance on medical and life issues. She also pays much-needed attention to taking care of yourself while caregiving.
Landes uses her many years of working with patients and caregivers through diagnosis, treatment and beyond as a basis for this resource, offering practical advice for caregivers on how to care for their loved ones and for themselves as they navigate the disease, medical care, and accompanying challenges.
The Caregiving Journey
The book is broken into three parts: 1. Understanding Cancer, 2. Caring for Someone with Cancer, and 3. Caring for Yourself. In the two chapters that make up the first part, she gives an overview of the many diseases covered by the term "cancer" and a glimpse into the profound changes that can come with a cancer diagnosis. From the beginning, Landes focuses on the importance of communicating with your loved one with cancer and everyone else involved in medical treatment and caregiving.
Each chapter starts with a story illustrating many of the issues to be addressed, beginning with relationships.
Maria recalls, "After Sebastian was diagnosed, every role shifted and changed. I had to take over everything …" Maria remembers how steep the learning curve was and how each day presented new challenges. (p. 13)
The unique difficulties of long-distance caregiving are also outlined. One of the most useful features of this book is the use of color-coded text boxes with summary lists to guide the caregiver, such as "What to Do." After introducing the possible members of the Cancer Care Team, she offers a text box for "What to Ask Your Care Team." Each chapter ends with a section entitled "How Are You Doing?"
Part 2. Caring for Someone with Cancer, covers what is likely to happen after the diagnosis. "Caregivers often wonder how they can best support their loved one and need a road map to help them navigate these uncharted waters" (p. 25). Even those lucky enough to have a patient navigator at the healthcare facility where their loved one is being treated will find good strategies for dealing with health and household matters.
Chapters in this section cover Treatment and Side Effects, Common Daily Living Changes, Financial and Legal Decisions, Long-Term Caregiving Help, and Advanced Cancer Care. Landes provides specific "What to Ask Your Doctor" text boxes for each medical issue. It can be hard to know what to ask doctors, nurses and other health care providers, so this is extremely useful. It can also be difficult to remember questions, making this book a handy reference.
In addition to questions, she also gives us very thoughtful suggestions for "What to Say" to our loved one in the circumstances described and, often, "What to Do." We may want to fix things or to try to convince our loved one to do what we think is right; for example, getting them to eat healthy food. What we really need to do is to support them and their choices.
What to Say: I am here to support you if you want to make changes in your diet. I can help with shopping and food preparation. Maybe we can get a good cookbook and make it fun!
What to Do: Follow your loved one's lead. If you notice they are resistant to talking about nutrition, try not to push. Making lifestyle changes can be very difficult for some people, especially when they are already under emotional and physical stress. (p. 61)
Landes gently guides us through many situations, logistical and emotional. In the first section, she offers ideas for what to say to our loved one: "Your body is going through so much, and many things in your life have had to change because of it. If you'd like to talk, I'm here to listen" (p. 31). At the end of the second section, she addresses "advanced cancer," when a cure is not likely.
Caregivers can play an instrumental role in assessing their loved one's goals of care and support them in making decisions that align with their values. Caregivers don't always agree with their loved one's choices around treatment decisions, how they care for themselves, or how they wish to spend their time. They may find it helpful to remember, with love and compassion, that this is their loved one's journey and that they must set the tone and feel empowered to make their own decisions. (p. 107)
The third section goes beyond the suggestions for self-care offered at the end of each chapter and explores how caregiving affects us. Landes reminds us that caregivers should not overlook their own well-being. The text boxes are now about what to do to care for our physical and emotional health, how to deal with the workplace, and getting help. Her practical advice for managing stress includes breathing exercises, journaling, time management, gratitude, good sleep practices, and affirmations. She also offers tips on how to ask for help and get support from others.
Landes includes a short list of resources and a longer list of references. The index is a nice feature and makes it easy to look for questions and advice on specific topics.
Critique
This book is short and accessible, defining medical and other important terms. It covers many common situations and concerns that arise with caring for someone with cancer, but, of course, not all and not in depth. Zero Breast Cancer's survivorship factsheets offer a deeper dive on memory & thinking problems (referred to as cognitive changes in the book), neuropathic pain (pain is a single paragraph in the book), and, soon, heart health after a cancer diagnosis.
Landes points out that every person should receive a "uniquely tailored treatment plan" and everyone has unique life circumstances. Unfortunately, not everyone has access to all of the services of a cancer care team described and far too many people encounter fragmented care with limited communication between healthcare providers.
The stories included in the book illustrate the topics well. However, they all seemed quite positive, featuring people with good relationships who don't lack basic resources. Not everyone will have the time, money, capacity, social support, and family cohesion encountered here. While it may be uplifting to see that things can work out, it could also be frustrating and isolating not to see our challenges represented.
Recommendation
This book is an excellent resource for anyone caring for a loved one diagnosed with cancer. The explanations are clear and it offers concrete advice on what to do and a menu of things to say to our loved one. Even with my knowledge of cancer and resources available, I would have found this book helpful earlier this year when I was a primary caregiver. The parallel focus on self-care while caring for a loved one is unique and particularly useful.
Book reviewed by Catherine Thomsen, ZBC's Science & Survivorship Program Director