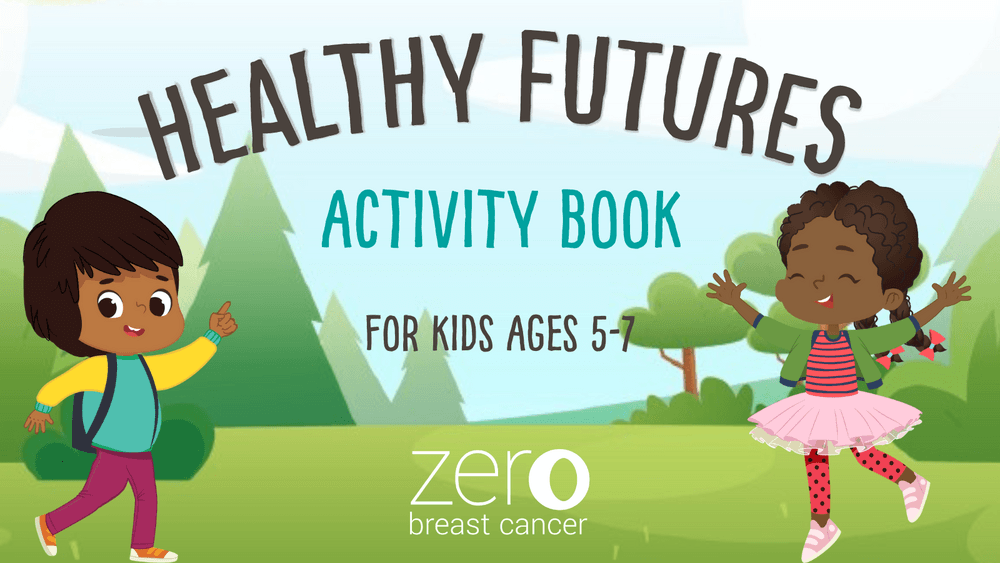 Zero Breast Cancer's Healthy Futures Activity Book empowers kids ages 5-7 to improve their own health and gives caregivers tools to support healthy behaviors. Kids complete one activity in each of four key areas (move more, eat healthy, get enough sleep, and feel better) to receive a patch or zipper pull as a prize.
While the Healthy Futures program focuses on healthy behaviors and does not bring up puberty or breast cancer, its goal is to reduce the risk of early puberty and lifetime breast cancer risk. Healthy behaviors before puberty reduce the likelihood of early puberty in cis-gendered girls, which decreases their lifetime breast cancer risk. When healthy behaviors are maintained while breasts are developing, it reduces lifetime breast cancer risk, too. Although breast cancer is most common in cis-gender women, this program was designed for kids of all genders so that it can be used in mixed-gender groups and because any person can get breast cancer.
This activity book highlights moving more, eating healthy, getting enough sleep, and managing stress, but exposure to harmful chemicals also increases the risk of early puberty and breast cancer later in life. The developmental psychologist we consulted advised waiting to address chemical exposures with children until they are older; however, we highly recommend parents and caregivers reduce kids' exposure to toxic chemicals at the earliest possible age. You can learn more about sources of toxic chemical exposure and steps you can take to avoid them in our Generations campaign.
To learn more about why we focus on health pre-puberty, read our blog. For more tips about how to reduce the risk of early puberty, check out our Girls' New Puberty materials for parents/caregivers of young girls.