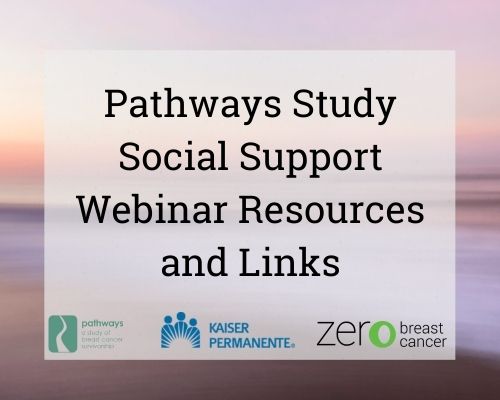 On September 21, 2023, we hosted the webinar "People, Places, and Breast Cancer: The Pathways Study and how our communities impact survival and quality of life." While many webinar attendees asked about how and where to get support, our speakers and panelists emphasized that systems, like our medical systems and community structures, play a large role in what is available and the quality of support during and after treatment. A major point of this forum was that resources vary by place. Where there is more money, more services are usually available. People who live in neighborhoods with others from a similar culture often feel more supported with a greater sense of community.
More resources than ever are available online, via computer or smartphone. Many people with cancer and those caring for people with cancer find comfort in support groups, which can be led by professionals or peers. Others seek individual counseling or other activities. Some prefer programs that are in-person, while others seek support online for many reasons, such as they live in a remote area, are not mobile, or want to share with someone who has the same specific situation, which may not exist in their geographic area. Several webinar and Pathways Study participants noted that they had to keep searching to find support or the right kind of support for them during or after treatment. Mentors or buddies can be helpful. One size does not fit all when it comes to support.
A common place to start is by asking a healthcare provider. In addition to the resources provided by our speakers and panelists, attendees offered many resources, which are shared here in general categories. The following is not a complete list of resources, offerings and links may change over time, so please keep looking for what you or your loved one needs.
General Breast (and Other) Cancer Support Program and Services (In-person & Virtual):
Support for Specific Groups
Search for General Help (Not Specific to Cancer):
For Kaiser Permanente Members:
San Francisco Bay Area Resources:
Thank you again to our great speakers, Drs. Candyce Kroenke and Salma Shariff-Marco, excellent panelists Linda Felix-Monroe, Dr. Larry Kushi and Dr. Raymond Liu, and all who participated.
Other Resources Cited in Webinar: