Zero Breast Cancer's History
Zero Breast Cancer is a community based organization dedicated to prevention and finding the causes of breast cancer through community participation in the scientific research process. We focus on identifying environmental factors and the role they play in breast cancer at all stages of life and across generations. Our definition of the environment is broad and includes lifestyle choices, foods and nutrients, prescription drugs, as well as exposures to both natural and synthetic chemicals, toxins and contaminants. We believe the opportunity to prevent breast cancer by altering environmental factors is very promising.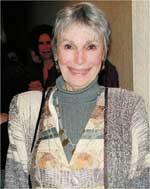 Francine Levien founded the organization in 1995 with a small but committed group of women, all with breast cancer, who were concerned about the high incidence rates of invasive breast cancer in Marin County. Zero Breast Cancer continues to exist because we believe the current incidence rates in Marin County as well as the San Francisco Bay Area remain unacceptably high.
Over the course of its nearly 20 year existence, Zero Breast Cancer has grown from a local grassroots organization to a national leader in conducting community-based research and educating and placing the results of both local and national breast cancer research into the hands of women and the community so that these findings can inform personal and public decision-making processes.
With community involvement, Zero Breast Cancer received one of the first community-based research project grants funded by the California Breast Cancer Research Program and conducted the first breast cancer study in Marin County, the Adolescent Risk Factor Study and the Development of Breast Cancer (1997-2002). This study was designed to investigate whether adolescent experiences and exposures differed between 300 women who had developed breast cancer and 300 who had not. It was one of the first studies to focus on adolescence as a "window of susceptibility"- a stage in normal development when exposures to potential carcinogens might affect breast cancer risk later in life. It was also the first to reveal population risk factors and exposures linked to breast cancer development in Marin County. Adolescent Risk Factor Study has generated further studies that have advanced our understanding of tumor histology (2003); geographic variability (2004), the role early childhood stressors may play in breast cancer (2005) and DNA analysis of a variety of SNP markers (2006). In an effort to disseminate the findings of this study and others focused on adolescence and the prevention of breast cancer, the Adolescent Breast Cancer Prevention, Risk Reduction and Education Project was initiated, which led to the development of our Adolescent Peer Education Tool Kit. Today, the module continues to be used in Marin County high schools and used as a model to help develop youth education programs in the Bay Area, throughout the United States and Canada, and as far away as New South Wales, Australia.
In 2003, ZBC began collaborating with Bay Area scientists to establish the Bay Area Breast Cancer and the Environment Research Center (BABCERC), which has since been renewed and revamped into the Breast Cancer and the Environment Research Program (BCERP). Funded through the National Institute of Environmental Health Sciences and the National Cancer Institute, the BCERP consists of multiple sites across the country that work to advance basic science and epidemiology research on potential environmental causes of breast cancer. ZBC has served as the Community Partner and Community Outreach and Translation Core Director of the Bay Area region of BCERP for 10 years, successfully disseminating research information through various print, visual, and audio media as well as creating a Youth Advisory Board composed of CYGNET study participants to foster community involvement in designing, interpreting, and disseminating the research findings.
In 2006, ZBC partnered with bilingual, bicultural students, educators, and consultants to create our Latina Adolescent Outreach Project and to develop a culturally tailored bilingual breast cancer information brochure for Latina teens, young women, and families modeled on our successful Adolescent Peer Education Tool Kit. The public health impact of this project was recognized at the poster session at the 2008 BCERC Annual conference, and was subsequently presented at the prevention panel at the 2010 National Latino Cancer Summit.
Since 2006, ZBC has also been a collaborator on the Marin Women's Study, a breast cancer research study funded by the CDC and spearheaded by the Epidemiology Team at the Marin County Department of Health and Human Services. To date, over 16,000 female residents of Marin County who received mammograms after 2006 were enrolled and findings have suggested a relationship between hormone therapy and the rates of invasive breast cancer. Results are still being analyzed today.
Over the years, ZBC has sponsored more than 45 community forums and town hall meetings on breast cancer prevention that have focused on breast cancer in diverse populations such as Latinas, Marin County residents, and Young Women as well as topics related to breast cancer such as stress, physical activity, and stem cells. These programs have allowed us to bring the community's voice to researchers and allowed scientists to disseminate their most recent research findings to the public.
ZBC was started 18 years ago in response to the high incidence rates of invasive breast cancer in Marin County and the San Francisco Bay Area. While the incidence rates have varied over the years, there is little question that the rates in Marin County and the San Francisco Bay Area, as well as elsewhere, remain unacceptably high. In our efforts to illuminate the connections between breast cancer and the environment, ZBC will continue to engage our community and express their concerns at the local, state, and federal levels; expedite the research that is necessary to discover the environmental factors that increase breast cancer risk; and help the community and public policy makers understand the actions each can take to achieve our ultimate goal of eliminating breast cancer.
Click here to view a TIMELINE of ZBC's history.